Lenovo ThinkPad E540 Siêu Bền cho dân Coder Core I5 4200M 2.5Ghz, upto
ThinkPad Lenovo
Lenovo ThinkPad E540 được 6 Tháng, bao dùng máy 1 tháng
💰Ưu đãi khi mua Lenovo Thinkpad E540 tại Thanh Hương technology: 🎁 Tặng ngay. : Túi xách + Chuột xịn + Bàn di chuột logitech 🎁 Giảm ngay 15% khi nâng cấp linh kiện cho những máy khác 🎁 Hỗ trợ trả góp 0 đồng, 0% lãi suất 🎁 Giảm 5% khi mua máy tiếp theo 🎁 100% Miễn phí dịch vụ vê sinh máy, tư vấn nâng cấp trọn đời 🎁 Miễn phí cài đặt phần mềm trọn đời
7,300,000 đ 9,900,000 đ
7,300,000 đ
MUA NGAY
Thanh Hương technology giới thiêu Lenovo ThinkPad E540 ( Core I5 4200M – Ram 4G – HDD 500G – 15″ – HD) cầu hình cao chuyên dùng cho dân coder, với độ bền nổi tiếng, phím gõ sướng máy rất phụ hơp với dân CODER
CẤU hình chi tiết về Lenovo thinkpad E540 :
Tiêu chuẩn USA, máy là hàng dùng dự án lướt, chất lượng mới như 100% , Thinkpad nổi tiếng về chất lương.
CPU: Intel Core i5-4200M processor (2 cores, 2.50GHz, 3MB cache, upto 3.1Ghz), Intel HD Graphics 4600,CPU dòng M cho hiệu năng cao hơn dòng U. chạy tốt mọi ứng dụng,
Đồ họa HD Intel® 4600 upto 2GB thoải
DDR3L 4GB1600Mhz, maxram 16Gb ,
HDD 500GB 7200rpm, tốc độ truy xất nhanh, option nâng lên SSD chạy siêu mượt hỗ trợ 1 công M.2 Card slot for support of SSD
Màn hình : 15.6 inch 5.6" (396mm) HD (1366x768), anti-glare, LED backlight, 200 nits, 16:9 aspect ratio. chống chói
Phím đặc trưng thinkPad gõ sướng và êm, có phím số
Full Tính năng, Wìfi, nhận diện vân tay, webcam, usb 3.0 , HDMI, VGA , Loa nghe nhạc cực hay.... Full Tính năng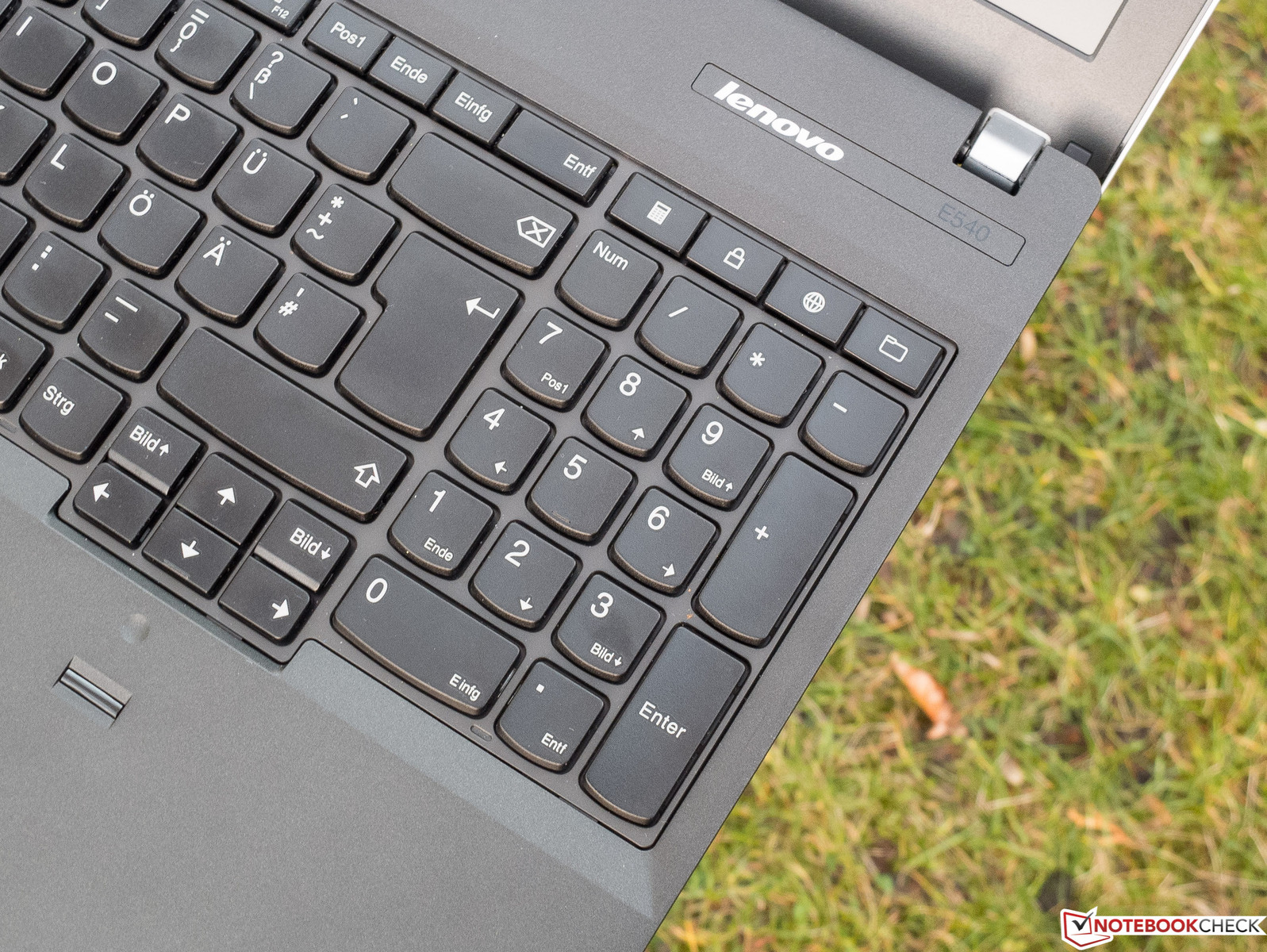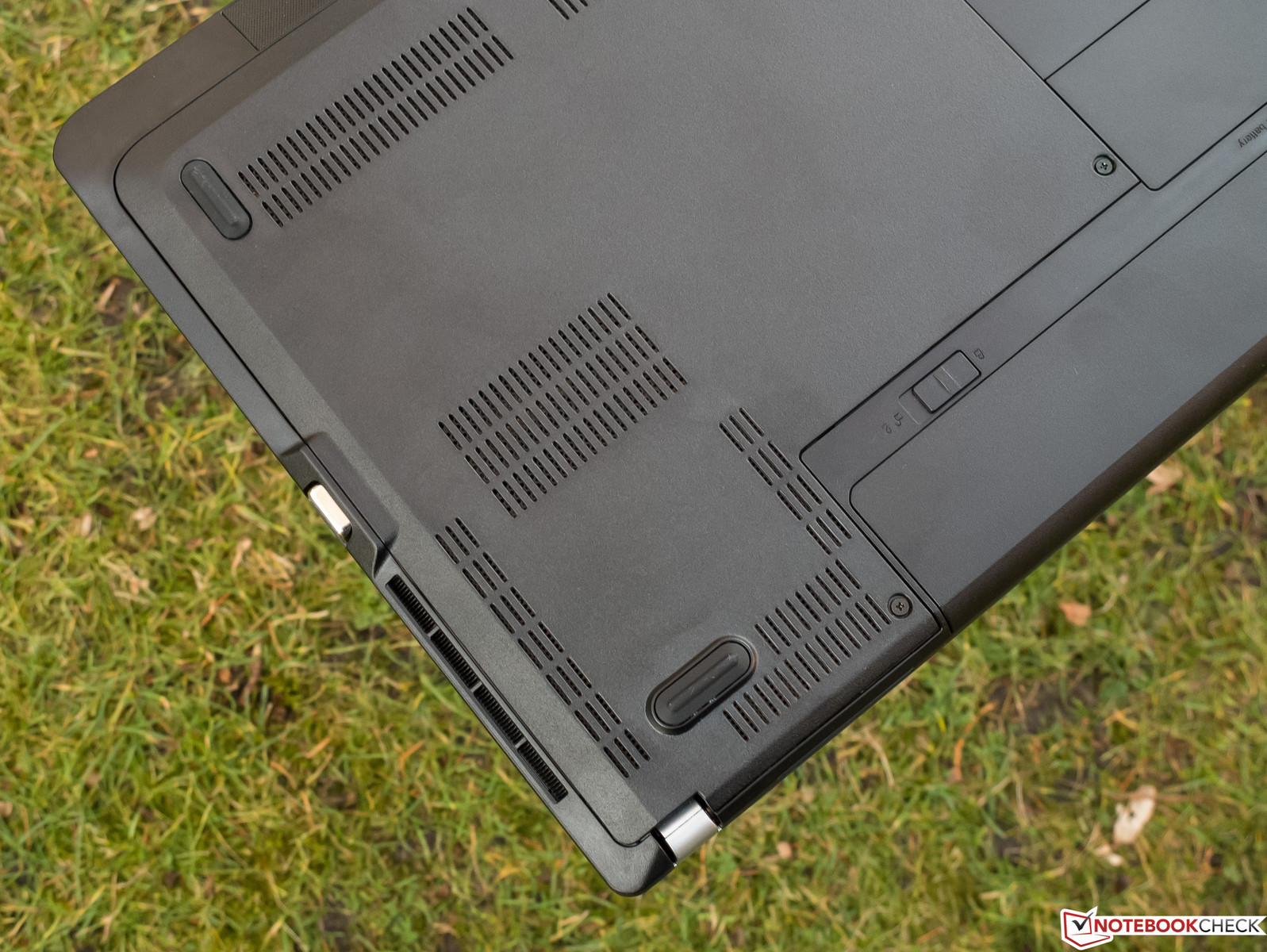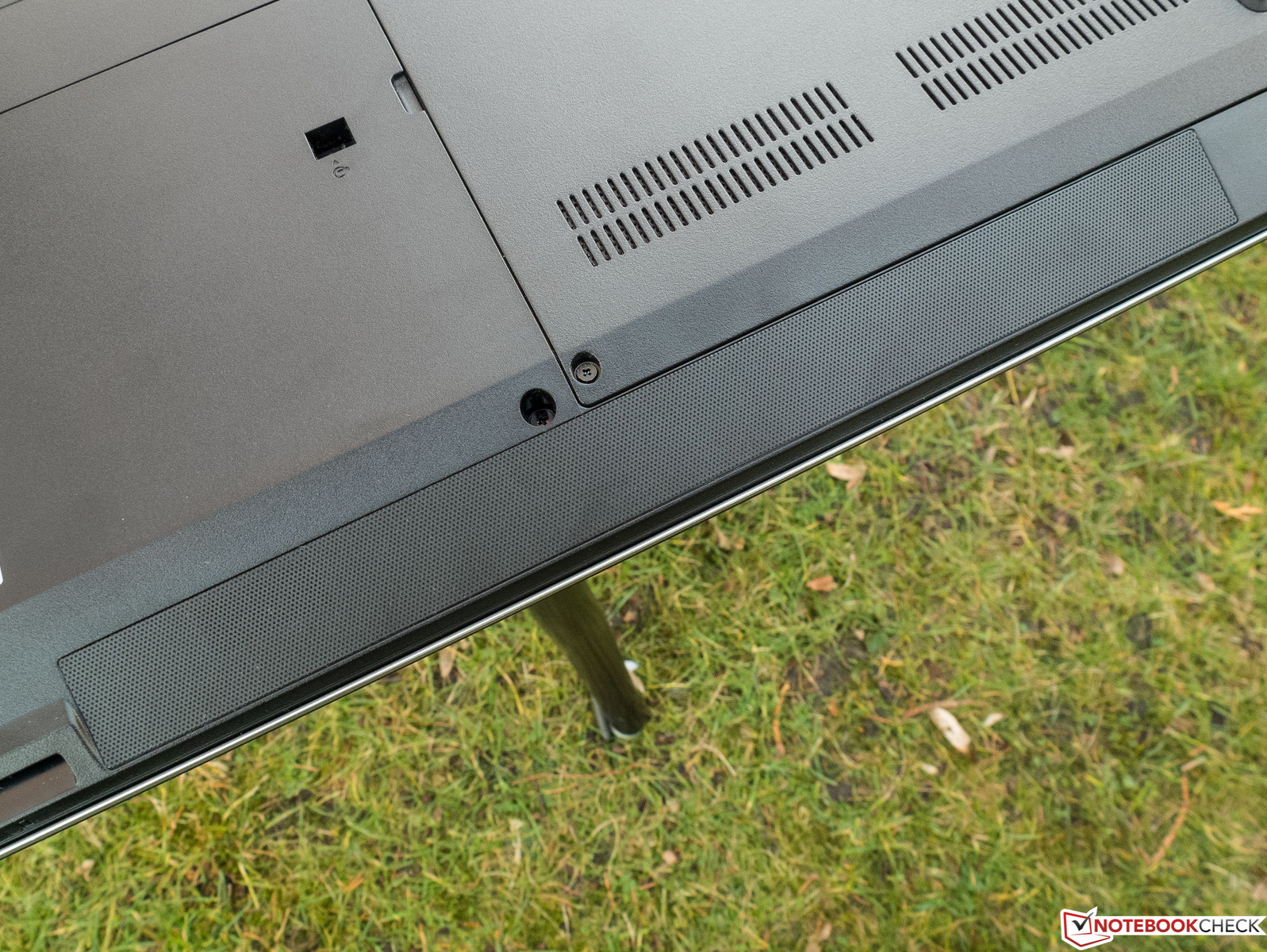 Gray plastic everywhere. The business-like exterior already hints at the ThinkPad Edge's primary purpose. The back of the lid and the bezel feature a soft-touch finish, which unfortunately is susceptible to fingerprints. The same is true for the upper deck, which also makes use of the same silky color, but feels a bit smoother to the touch. The bottom of the notebook, which is dominated by two maintenance hatches and plenty of cooling slots, is black and textured to prevent slippage.
The base can be twisted with moderate force, but it still appears quite solid, thanks in part to the very decent build quality. Optical highlights are the two logos on the lid and the base, which feature an LED-lit dot over the "i", as well as a small silver strip, which surrounds the outside edge of the display. The feet are rubberized to prevent slipping and Lenovo thoughtfully included dust filters behind the cooling vents.
With a weight of 2.4 kg (~5.3 pounds) and a thickness of almost 3 cm (~1.2 inches) the E540 is, just like the two competitors, a fairly heavy and thick 15.6-inch notebook.
Keyboard
Lenovo touts their time-tested ThinkPad keyboard as one of the standout features of the E540. The keyboard supposedly even satisfies the professional user - and in our opinion, that claim is true. We are happy to report that this is a keyboard with decent key travel - we have not seen one in a while. The keys are slightly indented and not completely smooth, which can make touch-typing a little easier. The actuation point is easily felt and there is some shock absorption built in when the keys are depressed, which is supposed to make typing sessions less tiresome. The noise level of the keyboard is well controlled. Some keys have their own status LED - quite ambitious, we think - although we would prefer a backlit keyboard instead. To make entering numbers easier, the E540 also features a numeric keypad.
No ThinkPad is complete without the familiar red TrackPoint. Usability is in the eye of the beholder: some will like it, others will not. The TrackPoint does not get in the way for those who do not want to use it, however.
We do not know what to make of the rather unusual layout of the keys, although it is something most will be able to get used to. In particular, we do not like the fact that the Ctrl key is not at the far bottom left of the keyboard, as the Fn key is in that position. The placement of the Prnt Scrn in the bottom row and the lack of the pause-button are also not optimal. Even so, using the keyboard of the ThinkPad E540 is a pleasing experience.
Touchpad
We were really impressed with the ClickPad, which features a slightly rough surface, can recognize up to four fingers, and is highly configurable. Accuracy and sensitivity (can be configured) of the large surface are close to perfect. During our time with the notebook, we never had any issues with dropouts or clicks not being recognized. The mouse buttons are integrated into the surface and feature optimum resistance and haptic feedback.
A tiresome topic, which does not just concern less expensive notebooks like the Lenovo ThinkPad E540 20C60041 we are reviewing here, is the quality of cheap and low resolution TN panels. Our review model features 1366x768 pixels (16:9), which translates to only 100 ppi. At least the panel is non-glare and colors are subjectively fairly decent after calibration. Lenovo also offers models with a 10-point Full HD touchscreen, although we could not find more information about that particular display. The maximum brightness of 233 cd/m² is also nothing to get too excited about, although at least the full brightness is available when the notebook is running on battery.
The low brightness and the less-than-stellar contrast ratio of 289:1 lead to a fairly high black value of 0.8 cd/m², which in turn means that solid black (RGB 0,0,0) appears as a gray instead. The brightness distribution is quite OK and screen bleeding is not an issue.
The HP ProBook (display rating: 69%) is not any better; the Dell Latitude 3540 with its Full HD display panel scored 79% and pulls ahead here, although its screen is not really much brighter than the E540's.
Screen
Brightness middle
Brightness
Brightness Distribution
Black Level
Contrast
Colorchecker DeltaE2000
Greyscale DeltaE2000
Gamma
CCT
Color Space (Percent of AdobeRGB 1998)
* ... smaller is better
Our review model shipped with an processor (2 x 2.4 GHz, no Turbo, Hyperthreading, TDP 37 W), which is sufficient for notebooks which are not primarily running on battery. Typical office-type software does not task the CPU much and even more resource-intensive programs like Adobe Photoshop Lightroom 4 do not pose a problem. Users who do not work with overly large files in Photoshop or use the notebook for video editing should also not run out of the 4 GB of available RAM.
System information Lenovo ThinkPad Edge E540 (20C60041)
Processor
Because of its TDP of 37 Watts, the 22 nm Haswell CPU is only suitable for larger notebooks from 14 inches on up, since a more potent cooling system as well as more powerful battery are needed. Given that, we recommend a notebook with one of Intel's ULV processors - identifiable by the "U" at the end - for those users needing to operate away from outlets more frequently. The (Ivy Bridge, 2x 1/9-2.9 GHz, Hyperthreading), to give an example, has a TDP of 17 Watts and allows for lighter and smaller notebooks with a better battery life.
During the Multi-CPU portion of the Cinebench R10 and R11.5 benchmark tests, the i3-4000M only has s small advantage when compared to the (Dell) or the older (Ivy Bridge, 2x 2.5 GHz, Hyperthreading, TDP 35 W) used in the HP ProBook. All three processors offer comparable performance. When only one core is utilized, the i3-3120M trails the other two CPUs by sometimes-significant margins. Overall, our Lenovo performs exactly like other notebooks with the same CPU and does not suffer from a decrease in output power when running on battery.
Cinebench R10
Rendering Single CPUs 64Bit
Rendering Multiple CPUs 64Bit
Cinebench R11.5
CPU Single 64Bit
CPU Multi 64Bit
System Performance
The results of the benchmark tests PCMark Vantage and PCMark 7 are almost identical to the ones recorded for the , which has the same CPU/GPU combo and hard drive. The reason the ThinkPad E540 does better overall and in the productivity-section of the PCMark Vantage test than either the and , can most likely be attributed to the much faster HDD of the review notebook. The newer PCMark 7 benchmark shows the Lenovo and Dell notebooks to be quite comparable; the HP ProBook 450, on the other hand, is 13% (overall score) and 20% (productivity score) slower.
Subjectively, we had no issues with the performance of the ThinkPad. An SSD (more so than a faster CPU) would allow for quicker application and system starts, although we did not have to be overly patient with the notebook despite its standard HDD.
PCMark Vantage
1024x768 Productivity Score
1024x768 Result
PCMark 7
Productivity
Score
| | | |
| --- | --- | --- |
| PCMark Vantage Result | | 6559 points |
| PCMark 7 Score | | 2538 points |
| PCMark 8 Home Score Accelerated | | 2958 points |
| PCMark 8 Creative Score Accelerated | | 2590 points |
| PCMark 8 Work Score Accelerated | | 4361 points |
Help
Storage Devices
We do not see 7200-rpm drives very frequently any more, which to a large extent has to do with their higher power consumption compared to 5400-rpm drives. The main advantages of a faster spinning drive are the shorter access times and the faster transfer rates. The HDD Lenovo uses - a Hitachi Travelstar Z7K500 HTS725050A7E630 - features a sequential read speed of 110 MB/s according to CrystalDiskMark, which is a very good value. Other notebooks with the same drive read large data blocks at up to 22% faster, however. As it stands, this particular Hitachi HDD is one of the fastest conventional drives in our database. HD Tune confirms the excellent results.
Theoretically, the faster 7200-rpm drive should guarantee the E540 an advantage as far as access times and the results of the CrystalDiskMark Read 4k QD32 benchmark test (supposed to simulate system and program starts) are concerned. According to the diagram below, these expectations are not met.
| | HD Graphics 4600, 4000M, Hitachi Travelstar Z7K500 HTS725050A7E630 | Radeon HD 8850M, 4200U, WDC Scorpio Blue WD7500BPVX-75JC3T0 | HD Graphics 4000, 3120M, Seagate Momentus Thin ST500LT0 12-9WS142 | HD Graphics 4600, 4000M, Hitachi Travelstar Z7K500 HTS725050A7E630 |
| --- | --- | --- | --- | --- |
| CrystalDiskMark 3.0 | | 15% | -8% | 33% |
| Read 4k QD32 | 0.615 | | | |
| Read 4k | 0.373 | | | |
| Read Seq | 110.3 | | | |
| HD Tune Transfer Rate Average | | | | |
| --- | 105.7 | | | |
| HD Tune Access Time | | | | |
| --- * | 16.7 | | | |
| Total Average (Program / Settings) | | | | |
* ... smaller is better
Hitachi Travelstar Z7K500 HTS725050A7E630
Transfer Rate Minimum:
65.3
MB/s
Transfer Rate Maximum:
132.5
MB/s
Transfer Rate Average:
105.7
MB/s
GPU Performance
As expected, the on-chip GPU Intel HD 4600, which handles the graphics and has to share the RAM with the CPU, is not as powerful as the dedicated AMD Radeon HD 8850M with 2 GB of video RAM used in the Dell Latitude 3540, but still outperforms the Intel HD 4000 in the HP ProBook 450-H0V92EA. The more complex the application is, the larger the difference between the HD 4600 and the Radeon GPU becomes. During the comparatively simple 3DMark 2013 Ice Storm benchmark, the review notebook is able to keep up, but then falls behind by more than 220% when tasked with the more demanding Fire Strike test. The slight performance advantage of the HP ProBook 650 with identical hardware might be due to different drivers.
| | HD Graphics 4600, 4000M, Hitachi Travelstar Z7K500 HTS725050A7E630 | Radeon HD 8850M, 4200U, WDC Scorpio Blue WD7500BPVX-75JC3T0 | HD Graphics 4000, 3120M, Seagate Momentus Thin ST500LT0 12-9WS142 | HD Graphics 4600, 4000M, Hitachi Travelstar Z7K500 HTS725050A7E630 |
| --- | --- | --- | --- | --- |
| 3DMark | | 107% | -38% | 10% |
| 1920x1080 Fire Strike Graphics | 565 | | | |
| 1920x1080 Fire Strike Score | 523 | | | |
| 1280x720 Cloud Gate Standard Graphics | 5165 | | | |
| 1280x720 Cloud Gate Standard Score | 4114 | | | |
| 1280x720 Ice Storm Standard Graphics | 39418 | | | |
| 1280x720 Ice Storm Standard Score | 35381 | | | |
| | | |
| --- | --- | --- |
| 3DMark Vantage P Result | | 3438 points |
| 3DMark 11 Performance | | 828 points |
| 3DMark Ice Storm Standard Score | | 35381 points |
| 3DMark Cloud Gate Standard Score | | 4114 points |
| 3DMark Fire Strike Score | | 523 points |
Help
Gaming Performance
As per the benchmark table below, some current and more demanding games can be played at decent frame rates with the settings on low; medium settings are generally out of the question though.
Please take a look at our benchmark list in the FAQ section, as it shows the performance of many mobile graphics cards and provides more information about the various games.
low
med.
high
ultra
Total War: Shogun 2

(2011)

66.05
fps

(2011)

20.43
13.99
fps

(2011)

29.27
13.99
8.43
fps

(2012)

45.06
28.63
23.17
13.92
fps

(2012)

25.92
20.72
18.08
fps

(2013)

42.3
20.3
11.2
fps

(2013)

27.21
15.9
12.26
fps
Dota 2

(2013)

41.54
26.53
14.41
fps
System Noise
It does not really matter if the fan is running or not and at what speed: the ThinkPad Edge E540 20C60041 is only about 4 dB(A) louder when under full load compared to idle. During our time with the notebook, we were barely able to hear it over the ambient noise, which makes the E540 supremely suited for those who are noise-sensitive. The HP is also nearly silent, while the Dell's maximum dB-result is higher by about 23%.
Noise Level
Idle

31.5 / 33 / 33.2 dB(A)

HDD

33.7 dB(A)

DVD

37.6 / dB(A)

Load

33.2 / 35.3 dB(A)

30 dB
silent

40 dB(A)
audible

50 dB(A)
loud

min:

, med:

, max:

Voltcraft sl-320 (15 cm distance)
Speakers
A positive surprise: Lenovo makes good use of the available space and installs a decent speaker system, which gets quite loud and produces better sound than those of most competitors - especially considering the price point. Bass is noticeable and instruments sound like they should at least from the middle frequency range on up. Spatial sound and a certain dynamic presence are responsible for a decent listening experience overall. There are no annoying sound fluctuations, although lower tones are distorted somewhat at maximum loudness levels. Audiophiles will not be happy of course, but the E540 is certainly good enough for movies or music once in a while. Although the speakers fire downwards, we liked the sound better when we had the notebook on our lap.
Power Consumption
Compared to other 15.6-inch business notebooks, the Lenovo E450 has low power requirements. During idle, the notebook never requires more than 8 Watts, which is very good. Under load, the ThinkPad consumes 39 Watts, which is about average. Not ideal, but also not a deciding factor, is the power consumption of 0.2 Watts when the notebook is turned off.
Power Consumption
Off / Standby

0.2 / 0.2 Watt

Idle

5.4 / 7.7 / 7.9 Watt

Load

36.1 / 39.4 Watt



Key: min: , med: , max:

Voltcraft VC 940
Battery Life
Long battery life was probably not a major concern when the E540 was designed. This is not a major drawback, since neither the size nor the weight of the notebook make it an ideal mobile companion in the first place. Compared to other current business notebooks with an identical form factor, the battery life of about 4.5 hours during the WLAN test (ca. 150 cd/m², energy-savings profile, Bluetooth off), which simulates web browsing via a script, is just about average. The lasted for 5.5 hours, the only 3 hours and 20 minutes.
With the wireless turned off and the screen brightness turned all the way up, we were able to watch DVD movies for about 3 hours. As mentioned under the section "Accessories", Lenovo also offers an optional battery with a higher capacity.